Frequently asked Questions
I made Airfix kits when I was younger. Is the company still alive, and can I still get the kits?
Yes - very much so. Airfix went through a very rough patch in the 1980s, going bust and getting taken over a number of times. For many years afterwards it seemed that they were dormant at best. They were bought by Hornby in 2006, and in recent years have undergone a bit of a revival. Hornby currently appear to have an aggressive re-issue policy as witnessed by the recent Catalogues. In addition, Hornby are releasing new kits under the Airfix logo.

When did Airfix start ? What was their first kit ?
The first ever Airfix kit was the Ferguson Tractor of 1948. Before that, Airfix were Britain's largest pocket comb manufacturer! The first commercial kit was the Golden Hind of 1952. Picture below courtesy of Eric Williamson.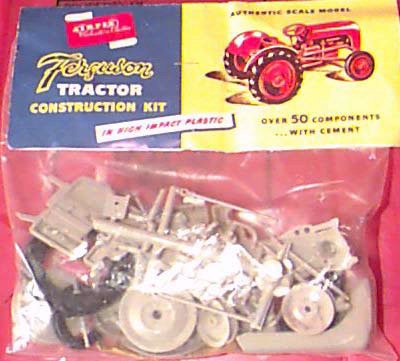 The kit I'm looking for is ...... Where can I get it?
I get asked this question by e-mail many many times. Unfortunately, it is difficult to answer as it depends what you are looking for. Take an example - "Where can I get the Airfix 1/72 Me.109G ?". This could be one of many different kits, from the original issue of 1956 to today's 2021 production version. With several other issues in between over the years, in differing packages and maybe depicting different versions of the real thing. To the modeller they are all the same - it's the kit that counts, but to the collector there's a world of difference. And in the value too! But basically:
If the kit is currently in production (if it's in the Airfix 2021 Catalogue), then it is readily available from retail outlets (mostly online these days).
If the kit is out of production, we have to ask ourselves which version is wanted, as there may be many. Some versions may be very scarce (say the 1966 issue in a Type 3 plastic bag), whilst the same kit in a 1978 Type 6 box may be easily obtainable. Out-of-production kits can be found through the UK "network" of collectors and specialists. I no longer offer a "kit-finder" service as many professional Dealers now operate on the internet and nearly every Airfix kit ever manufactured will appear on eBay at some time.

I've lost the instruction sheet for... can you help?
If the kit is in production, then Hornby offer a free replacement instruction sheet service. Simply call them on +44 (0)1843 233512 or e-mail customerservice.uk@airfix.com.
If the kit is not in production, then there are websites that offer old instruction sheets for download (for example, www.galaxykits.com)

I've lost a part from my .... where can I get another?
If the kit is in production, then Hornby offer a spare parts service. Contact Hornby on the above telephone numbers or email address.
As far as know there is no source of spare parts for out-of-production kits. Many people buy half-made kits from eBay at low prices and use these as a source of spare parts.

I've just found a ... in my attic, what is it worth?
What is a kit worth? Whatever anybody will pay for it. I'm happy to give an estimate, but you have to consider three things : (1) the age of the kit. This can be determined by packaging style. See my section on plastic bag header cards as an example of how to age kits. (2) the condition of the kit. Like all collectables, values fall off if it's not mint, and (3) rarity. Some kits were manufactured in their millions over 30 years, others were made in limited numbers. Some kits are special interest, like the military dioramas, James Bond, Star Wars etc and are sought after by specialist collectors. Don't assume that because it's in a plastic bag that it's automatically worth a fortune. As a guide - Type 3 plastic bag kits average 5-10 UK pounds each in value. Of the total Airfix range there are very few kits that command high prices. See my kit range section for some examples of rare and collectable kits. Sorry - but most people are disappointed when their little treasure is valued. Oh - and by the way - part-assembled or fully-assembled kits are of no value whatsoever (except to the person who made them). For more information on kit values - click here.

Is there a definitive kit list (1948-2000)?
No. But there are some good attempts.
There are four possible sources of this elusive item - my own Airfix listing (click here for details), the two Arthur Ward books and the Pat Lewarne book (see Sources section). None of these is guaranteed 100% accurate as there are no Airfix archives, but I hope my version is reasonable.

Made in France?
For many years Airfix kits carried the words "Made in France" on their boxes. There are two very different reasons why Airfix kits have been manufactured in France. (1) Airfix was bought by Palitoy when it went bust for the first time in 1981. Palitoy moved Airfix production to the Miro Meccano plant that it owned in Calais, France. (2) Airfix was sold to Humbrol in 1986. Humbrol already owned Heller, and so moved Airfix production again to its Heller plant in Turn, near Falaise, France. From 1986 to 1994 Airfix and Heller shared tooling budgets.

I'm told my kit is US Airfix.... is there a difference?
Maybe. In the US there are two different types of Airfix kit - (1) older kits originally manufactured in England and exported to the US, and (2) those marketed in the US under the Craftmaster or MPC logos. These US versions usually have different packaging and artwork. Which ones are more collectable, more valuable? Not for me to say - whatever turns you on.
OK, you forced me to make an opinion. Except for the few years when they were owned by the American General Mills company, Airfix is a British company. Who else would make models of the SRN-1, SRN-4, SR-53, P1127, Boulton-Paul Defiant, Fairey Rotodyne, Bristol Superfreighter, Vickers Vanguard, HS Trident, or airliners in BOAC markings ? (and that's only the aircraft range - I haven't even started on things like the Scammel Scarab - the what?). It's this classic British eccentricity that makes Airfix so appealing. US boxes somehow don't fit into the scheme of things....
Nice opinion, but Humbrol was owned by the American dairy and chemicals giant Borden when it took over Airfix in 1986 - so that only leaves the "British" years of 1949 to 1981...and Airfix was founded by an Hungarian.. Oh, well.

Who wants to be a millionaire?
Rumoured to be one of the rarest Airfix kits of all time - An Avro 504K that was issued to Qantas passengers on 16th November 1970. Supposedly, only 100 were manufactured. Got one?