Sources of Information

Airfix Collectors Guide
The Airfix Collectors Guide - Volume 1 : the Early Years (1949-1980) and Volume 2 : the Palitoy and Humbrol 80s (1981-1990). A complete list of all the Airfix kits produced from the very first Ferguson Tractor up to 1990 (over 800 kits). The lists are in Microsoft Excel spreadsheet format. Information provided includes - kit description, kit catalogue number, first release date, scarcity or rarity indication, re-release dates and catalogue re-numberings. Many kit entries have additional comments. The spreadsheets are constructed with space for the collector to add notes and to 'tick-off' kits in their collections. Available from Revelstone Models (see To Get in Touch button at the bottom of the screen). A charge of £20 is made for production, CD-ROM and mailing. The CD-ROM also includes this complete web-site, plus 1300+ extra Airfix vintage kit pictures.

Airfix - by Arthur Ward
Subtitled - "Celebrating 50 years of the greatest plastic kits in the world". A 1999 follow-on to his earlier 1980s book (see next). Nearly 200 full colour pages of absolute Airfix nostalgia, mostly re-told through interviews with Airfix employees and former managers. Lots of very good pictures of rare kits, plus many Roy Cross original artworks. This book is the only place that I have ever seen a photograph of the SS Southern Cross kit. It also provides some information on the Airfix toy ranges. If you expecting definitive lists, tables and description of all the kits, packaging types etc you will be disappointed. This book certainly is a "must have" for all those who enjoy Airfix, but it only skims the surface. Great pictures, though! Published by HarperCollins. ISBN 0-00-472327-9




The Model World of Airfix - by Arthur Ward
This book was released as a set in the mid-80's with two kits - Heracles HP42 airliner and Kamov helicopter. It was written at a time when the owners of Airfix were Palitoy, part of the American General Mills Toy Group. It is no longer in print, although copies often appear at trade fairs etc. Current price (if you can find one) is approx £50. It was written when Arthur Ward was 24.
This book was announced in the June 1984 edition of the Airfix Magazine, with the following words: ".....and what about the book? For a start, it's something rather more than a book. Included in the package will be two specially-produced kits: at the moment the choice is settling on the Heracles and the Kamov helicopter. Arthur's text will, he assures us, be 'as complete as it can be'. There will certainly, for instance, be a complete list of production details. But the emphasis of the book is on its personal content: not only the author's involvement in Airfix modelling from an early age, but that of other well-known names in the hobby. Arthur has been talking to fellow-enthusiasts - Chris Ellis, Roy Dilley - as well as old Airfix employees, obtaining their views on the development of the brand. For a product history the book is surprisingly idiosyncratic. There is a long section on how to get the best out of your modelling ... and a complete indication of how kits are made, from the initial design idea, through the construction of moulds, production, and the final appearance in the shops. The approach is predominantly a visual one: 'lots of photographs - from the first colour bagged models to the classic car kits'. But Arthur stresses that this is in many ways a personal history. He wants to highlight a few past oddities - that Boy Scout we mentioned earlier - talk about his personal favourites: 'I don't intend to ramble on and bore everyone'. The result, kits and all, promises to be diverting..."
Not bad for a 24-year-old!
It is a 48 page book containing many good photographs, and its chapters cover the Airfix history from 1939 to 1983, how kits are researched and manufactured, collecting and rarities and a production list of the plastic kits. Recommended!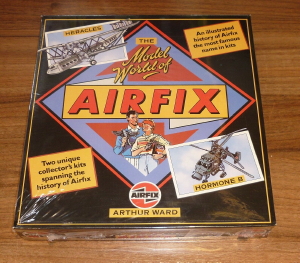 Classic Kits - by Arthur Ward
Subtitled - "Collecting the Greatest Model Kits in the World, from Airfix to Tamiya". Published by Collins in 2004, 192 pages of kits and manufacturers. Airfix has a chapter to itself, with many new kit photogrpahs and previously unseen artwork. Another magical book from Arthur Ward, and like his others there is a lot of space devoted to the real people in the kit and kit collecting world. ISBN is 0-00-717695-3




Let's Stick Together - by Stephen Knight
Excellent book. Don't be misled into thinking this book covers only Kitmaster or just railways. It is a thoroughly good reference for any Airfix enthusiast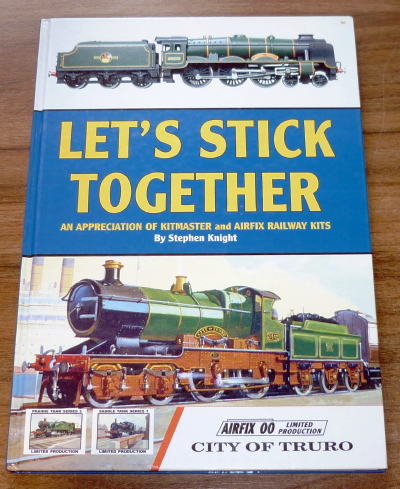 The Enthusiasts Guide to Airfix Models - by Pat Lewarne
This book was published in 1987 and is maybe still available from:
Collectakit
35 Chapel Avenue
Addlestone
Surrey
England
KT15 1UH
Original price was £10. An excellent publication, some good black & white pictures, but it is acknowledged to contain a few errors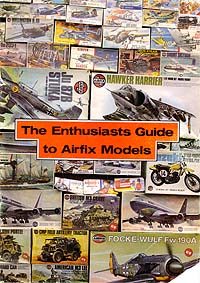 The Airfix annual catalogues
These began in the early 1960's and were issued every year. The catalogues are now very collectable and, inevitably, demand high prices. I've seen prices of £50, and above. I have a collection of most of the catalogues which I found in either specialist plastic model shops or at trade fairs. For a complete list of Airfix catalogues - click here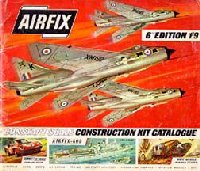 The Insert Slip
Early Airfix kits, both bagged and boxed, contained an "insert slip". This was a complaint slip, whereby you could write to Airfix if you found, for example, a piece was missing. On the reverse side of the complaint slip was a listing of the current Airfix range. This list is useful if you want to date your kit. By comparing what Airfix was listing as its range with the annual catalogues or the kit release dates (available from Ward's or Lewarne's books) you can reasonably accurately find the age of your kit. The listing on the insert slip was kept up to date by Airfix, often more than once a year

The Airfix Magazine
There are still articles in this magazine which could well be of interest to today's modellers - especially the guides to conversions. From the collectors point of view, I find the old advertisements of most interest. Produced in large numbers beginning in the early 1960's, there are many magazines still available. They are easily obtained at low prices. There was also an Airfix Magazine Annual - of the same format, but without adverts, letters and reviews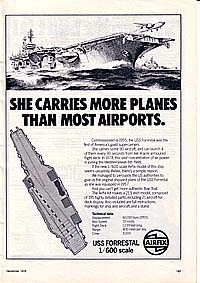 The Collectors Value Guide (or CVG) - by John W. Burns
The seventh edition (CVG-7) was available in 1999 and I'm not sure if there was ever an 8th Edition? This guide covers all plastic kits and has a listing for Airfix. CVG-7 has 456 pages of kit data, company histories and the current market value for 33,500 kits of all kinds. Over 350 box-art photos are also included. The price on eBay is currently about $50 for second-hand editions. A wonderful book and a recommended read! John also ran the KCC. The Kit Collector's Clearinghouse (KCC) was a bi-monthly publication of the Society for the Preservation and Encouragement of Scale Model Kit Collecting (SPESMKC) which had been serving serious kit collectors and model builders since 1974. John died in 2015, aged 80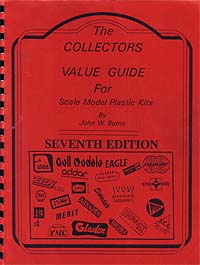 Encyclopaedia of 1/72 Scale Models (or ESM72)
This catalogue is produced by Tom and Lynne Young and had been available for many years. Some editions might still be available on eBay. I have no idea if this is still produced




The Internet Forums
There are several very good modelling/collecting forums on the internet. For example, The Airfix Tribute Forum (www.airfixtributeforum.co.uk). There are just too many websites and forums now on the internet for me to name them all. However, just to mention one more - Scalemates is the most comprehensive database of plastic kits that I have ever seen!