This page will be devoted to Airfix world-wide... I welcome any contributions
Larger images are available as indicated. Some of these are 100k plus, so will take some time to download. Apologies, but I thought it best to try to maintain the original quality of these pictures as much as possible.
All Japanese information contributed by Mikio Aida.
Japan - Airfix and Eidai

Eidai issued some Airfix aircraft in 1969. All kits were in new bigger and thinner boxes and box artwork was done by the famous illustrator Yoshiyuki Takani. Decals were the same as the original Airfix, except for the Fokker F27 Friendship. Instruction sheets were basically the same.
Click here for more Eidai images
Japan - Airfix and Tomy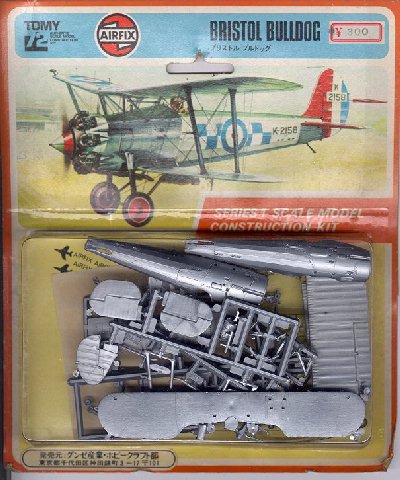 The second distributor in Japan was Tomy, the old established toy manufacturer. Packages of Tomy/Airfix are basically the same as the original ones, but with Japanese language. They issued a small number of kits, including aircraft, 1/32 tanks, HO/OO figures and dinosaurs. The relation between Airfix and Tomy continued from late 1976 to 1980. Click here for an Airfix/Tomy advertisement - large image.
Japan - Airfix and Gunze Sangyo

In mid-1980, Gunze Sangyo became the third distributor of Airfix kits in Japan. At first they issued kits of sailing ships and aircraft. The packages are in a new design but the drawings were the same. Gunze has issued kits with Japanese instructions and packages on occasions, but Gunze is really only an importer. Click here for more Gunze images.
Japan - Airfix and Tsukuda Hobby

In the spring of 1988 Tsukuda Hobby issued a dozen 1/76 scale AFV kits (but without the Airfix name). The reason why Airfix sold the kits to Tsukuda Hobby is a mystery. You can find the list of kits on P.346 of J.Burn's Value Guide 7th Edition (see Sources of Information page on this site). A release of the Airfix SAM-2 kit was planned but canceled, some people believing this was due to Gunze Sangyo objecting to this relationship with Airfix. Click here for large image of this Bloodhound kit, and more.
---
Brazil - Airfix and Kiko
Contributed by Mario Wens of The Netherlands...
"It so happens I have in my collection one box of Airfix-Kiko, the short-lived Brazilian offspring. A.Kikoler Com. Ind. de Plasticos S.A. from Rio had been responsible for the license production of many Revell kits in Rio, and later also added many Heller kits to its range. As far as is known only three Airfix kits were ever produced in Brazil: the Sd.Kfz.234, Rommel's Greif and the Sherwood Castle. A very unlikely range! As the revised round logo on the SdKfz234 box indicates these sets were introduced after 1981. I'm told they were in production for a few years only around the mid-eighties. Unfortunately I haven't been able to find a Sherwood Castle set, but I do have the sd.Kfz.234 model. It's not a very good box, lots of crease stains on the back (which is, unlike its European counterpart, completely white and empty)."
Update from Mario Wens in July 2000:
"My dear friend Ricardo Haddad from Rio made a surprise discovery recently, in the shape of a hitherto unknown Airfix-Kiko kit. Where until now it was believed only three kits were issued, a fourth has turned up. The SRN-1 hovercraft makes the selection from the extensive Airfix range produced by Kiko even more exotic. Moulded in white plastic the model comes with a set of decals almost identical to the UK production. The box, as seems to have been usual with Kiko, has a completely bare backside. It opens at the sides like the small Series 1 boxes issued in the seventies."
Dr Luiz Edgard Marcondes, of Brazil, e-mailed on January 2001 to provide a list of 18 Airfix kits that were released by Kiko: 3178 BAC 1-11, 4018 Sykvan, 2007 SRN-1, 2012 Mirage IIIc, 1026 Fiat G91, 1311 Armoured Car (picture above), 6230 QE2, 5202 Moskva, 6360 Rommel's Half Track, 733 Sherwood Castle, 1059 Gazelle helicopter, 1068 MBB Bo-105, 2065 Sea Knight, 2026 Angel Interceptor, 3009 HS125, 3019 Mosquito, 3205 HMS Fearless and 5174 Starcruiser Interceptor.
Kiko Catalogue (from Roberto Tumminelli)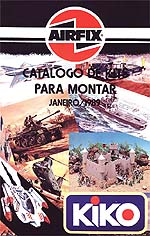 ---
Sweden - Airfix Figure sets
The rear of the header card of one of these sets provides the following information:
marketed by Prins August ab of Vagnharad, Sweden
series consists of

201705 48 piece German Infantry
201709 49 piece British 8th Army
2017 48 piece Afrika Korps
2017 45 piece US Marines (yes, same catalogue number!)
201723 41 piece British Paratroops
201732 40 piece British Commandos
201751 48 piece US Paratroops
201752 63 piece German Mountain troops
These sets were made in 1996-1997. The figures were made in England and packaged in Sweden. I had heard that it was illegal to sell "War Toys" in Sweden, but I am told it is only strongly discouraged and it only covers toys depicting the years 1914 to the present. These sets apparently did not sell very well and were only on the market for a short while. Maybe being "strongly discouraged" is what eventually did them in. Eight sets were made all with the same header card.
---
Germany - german language header cards and Plasty-Spielzeug GmbH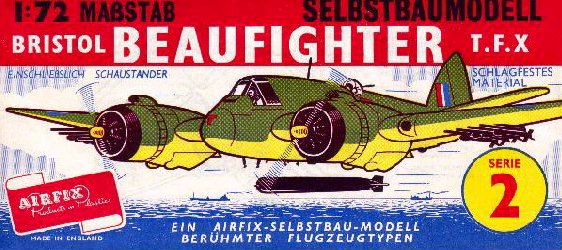 This absolute beauty was contributed by Bernhard Gruber of Linz, Austria. Another German header card (trackside range) can be seen by clicking here.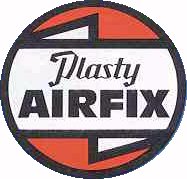 Plasty-Spielzeug GmbH was purchased in stages by Airfix (first 60% stake taken in 1975). Plasty had acted as a German agent for Airfix since 1954 - distributing Airfix products in addition to developing and manufacturing its own range of toys. Plasty re-boxed the Airfix kits, using their own packaging styles - early plastic bag kits had a completely different header card (see Featured Kits page), whilst the last version - a bagged kit in a box with a transparent lid - is unique to Plasty and is very much sought after. Click here for pictures of Plasty catalogues.
Left: Plasty Mayflower kit, as seen recently on eBay -the Airfix connection is clear

Right: The Airfix Ferguson Tractor is rare enough, but what about this Plasty version?

Pictures from Eric Williamson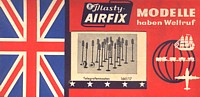 See also my Featured Kits page for some wonderful old German Plasty plastic bag Header card artwork. Pictures supplied by Claus Wilker (click here for Claus's discussion document on German Plasty box and packaging styles)
---
Finland - Catalogue
Left: Contributed by Leif Snellman, who also informs that the original Ferguson Tractor kit was very well known in Finland in 1958

Right: Part of a page from a 1978 Finnish Flyer, contributed by Mario Wens
---
France - Airfix Figure sets & Header Cards
---
USA - Craftmaster, MPC, US-Airfix and the rest....
Here's a challenge ! Who can provide a more definitive description of Airfix activities in the US ?

1959-1963 : AHM - Associated Hobby Manufacturers. Established in 1959 to be the sole importer of Airfix kits into the US. Click on the link below to see one of their adverts from 1962 (and their unique Airfix logo!). Some of the Airfix Trackside range of kits were re-issued by AHM with "Americanised" names - for example the Shop and Flat became the Store and Apartment. These old US issue plastic bag kits are now rare and collectable.
1963-1965 : Airfix Corporation of America - This import company was set up in 1963 by Airfix to distribute the Airfix line in the USA and lasted until 1965 when MPC assumed the role, using the Airfix-Craftmaster logo. All of the Airfix Corporation kits appeared with the black background box-art and the Airfix-72 (or Airfix-32) logo.
1965-1968 : Airfix Craftmaster - These are Airfix kits which were re-boxed by MPC and issued only in the USA during 1965-1968. The Airfix-Craftmaster logo was dropped in 1968 and Airfix kits appeared thereafter with the MPC logo until 1978.
1979-1981 : USAirfix - In 1979, AVA International became the sole USA distributor for Airfix kits, filling in the gap between the MPC arrangement and the General Mills purchase of Airfix. By 1980, the name had become USAirfix and kits were appearing with new kit numbers, decals and box-art. The company was sold in 1981 and production ended. AVA's relationship with Airfix actually began earlier in 1975 when Airfix took a 25% interest in the company for $50,000. The interest was increased in 1976 to 40%. At that time discussions took place about the possible manufacture of Airfix products at the new factory and warehouse AVA was occupying. Click here for AVA advertisementfrom 1979
1981-1985 : MPC. This company began in the early 1960s with 1/24 car kits. MPC began issuing Airfix kits in 1965 under the Airfix Craftmaster logo. In 1968 the Craftmaster logo was dropped and the MPC logo alone used until 1978. Three years later MPC's parent - General Mills - purchased Airfix and so Airfix kits in the US appeared again with an MPC logo. General Mills sold MPC to ERTL in 1985 and Airfix to Humbrol in the same year. ERTL chose not to continue the old MPC relationship with Airfix, instead buying the Italian ESCI company in 1987.
1985-2001 : it is not known who distributed Airfix kits in the US from 1985.....

Most of the above information was gathered from John Burns (CVG-7) and Arthur Ward (Airfix book). The two authors' words are remarkably similar, in some cases almost identical ! I'll leave you to figure out who copied whom..... (I copied both!)
Some more US box styles:
---
Mexico - Airfix and Lodela
| | |
| --- | --- |
| | Contributed by Eric Williamson - these pictures represent a relationship Airfix had with a Mexican company called Lodela (the name was derived from the man who started the company- Apolo Lopez de Lara). Lodela began in the 1970s and was the Revell distributor in Mexico. Heller kits were added to the line in the late 80s |
| | |
---
New Zealand - Airfix and Toltoys
Phill Sporton recently sent me some pictures of an Airfix Boulton Paul Defiant kit. It appeared to be a standard Type 6 box, but the reverse side had the legend: "Made in New Zealand by Toytoys (NZ) Ltd, under licence to General Mills Creative Products Ltd, Australia". Arthur Ward claims that the Toltoys boxes were slightly different to the UK issues. John Burns lists Toltoys as starting up in New Zealand in 1960, with a kit range made up mostly of Airfix.
---
Taiwan - Airfix and ??
Airfix's Sherman Tank and LCM3 - but what company? (and was "M4" used on any other form of packaging?). Picture courtesy of Eric Williams
---
Denmark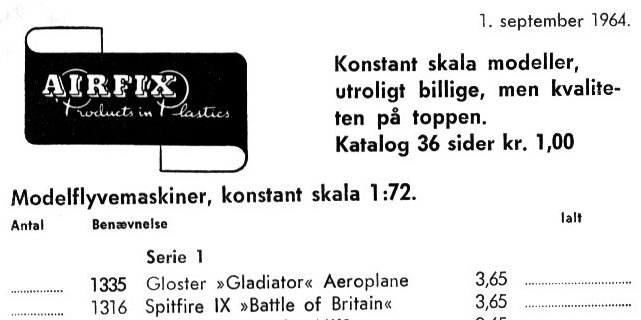 Danish catalogue from 1964
---
The Netherlands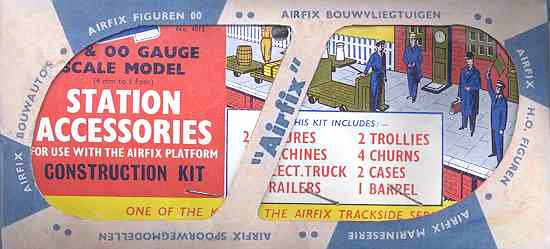 EDOR was (and still remains) the distributor of Airfix kits in The Netherlands. They originally re-packaged Airfix plastic bag kits into their own boxes, like this one. Click here for an example of an early Dutch catalogue.

Pictures via Thomas Milo and Eric Williamson
---
Dapol - Wales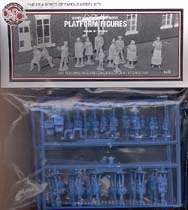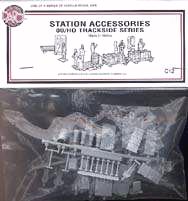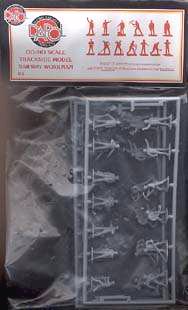 How Dapol acquired Airfix moulds is a story told elsewhere on this site. Here are three examples of old Airfix products currently being produced by Dapol in Wales - Platform Figures, Station Accessories and Railway Workmen
---
Jeco - Romania
| | |
| --- | --- |
| | Jeco Collective re-issued Airfix blister packs in 1991-2, but is no longer in operation. The only confirmed kits in the range are : Hurricane, Fiat G50 & Avro 504K, but there may have been others. Acknowledgements to Mario Wens of The Netherlands for the picture and John Burns' CVG for the information. |
---
Argentina
| | |
| --- | --- |
| | 1964-1965 Airfix catalgue from Argentina |
---
Prodimex - Poland
| | |
| --- | --- |
| | Clone of the Airfix Saunders Roe SR-53 kit, made in Poland by Prodimex and available in the UK market. Other details not known. Note plain brown box |