Airfix Books & Publications
In association with its kit range and magazine, Airfix also produced a number of modelling books. There were five categories:

Airfix Magazine Guides
Airfix Magazine Annuals
Classic Ships
Classic Aircraft
Classic Armoured Fighting Vehicles
Airfix Magazine Guides
These small A5-sized books were hardback, in black/white and always seemed to feature exactly 64 pages, whatever subject (if anybody has a Magazine Guide with a different number of pages, please let me know!). The books were first produced in 1974 and were released two at a time, usually four a year. A total of 28 are known, and these are listed below. They were published by Patrick Stephens Ltd.

1. Plastic Modelling
2. Aircraft Modelling
3. Military Modelling
4. Napoleonic Wargaming
5. Tank and AFV Modelling
6. RAF fighters of WW2
7. Warship Modelling

8. German Tanks of WW2
9. Ancient Wargaming
10. Luftwaffe Camouflage
11. RAF Camouflage
12. Afrika Korps
13. French Foreign Legion
14. WW2 American Fighters

15. WW2 Wargaming
16. Modelling Jet Fighters
17. WW2 British Tanks
18. WW2 USAF Camouflage
19. Model Soldiers
20. 8th Army
21. Modelling Armoured Cars

22. Russian Tanks of WW2
23. German Figures of WW2
24. American Civil War Wargaming
25. Modelling WW2 Fighters
26. American Tanks of WW2
27. Modelling RAF Vehicles
28. The English Civil War

Airfix Magazine Annuals
In September 1971, Airfix published the first of their Magazine Annuals. Seven were produced for the years 1972 through 1978. Then, for 1979, the Annuals was converted to paperback and split into two - the 1979 Annual for Aircraft Modellers and the 1979 Annual for Military Modellers. No more Annuals were produced after 1979.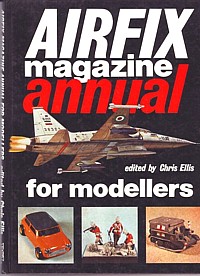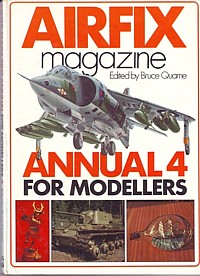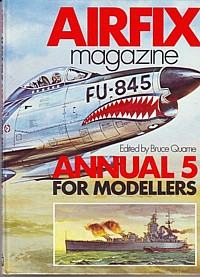 Classic Ships / Aircraft and Armoured Fighting Vehicles
In August 1970, Airfix announced the first of a new series of modelling books which were to be published by Patrick Stephens Ltd, the publishers of the Airfix Magazine. PSL had for some time printed a series of modelling books, many edited or written by former editors or contributors to Airfix Magazine. The new range was to be published "in association with Airfix Products Ltd" and initially would comprise of books dealing with the conversions or super-detailing of specific Airfix kits. The books were subtitled - "Their History and How to Model Them". The first part of each book would contain a brief history of the ship, aircraft or tank, followed by a section on how to improve or enhance the kit, and then, where appropriate, convert the model to different marks. The authors were in most cases well known to readers of Airfix Magazine as they had for years contributed to that journal. With one exception, these "history" books all used the kit illustration for the cover, the exception being the Lancaster book. The first five books in the Aircraft range featured the Airfix 1/24 scale Superkits. The complete list of books is:
Classic Ships
1. HMS Victory
2. Mayflower
3. Cutty Sark
Classic Aircraft
1. Supermarine Spitfire
2. Messerschmitt Bf109
3. NA P-51 Mustang
4. Hawker Hurricane
5. Junkers Ju87 Stuka
6. Avro Lancaster
Classic AFVs
1. Crusader Tank
2 Lee/Grant Tank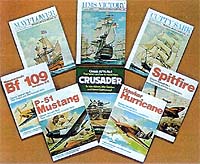 Patrick Stephens Ltd continued to release "Classic Aircraft" books in later years, but the link with Airfix had been broken. For example there was a Classic Aircraft Number 7 - The Mosquito.