Airfix Motor Racing, MRRC and MotorAce - slot-car racing sets
In 1963 Airfix bought Model Road Racing Cars Limited (a manufacturer of slot cars). MRRC were located in Boscombe, Hampshire, England. (Although I do admit to not being clear on this - it is written that Airfix were already producing their own range of slot-cars sets under the banner "Airfix Motor Racing" BEFORE they bought MRRC. Today, MRRC exists as a small independent company, still producing slot cars in the Channel Islands).
Airfix Motor Racing disappeared from view after the 7th Edition Catalogue (early 1970s)
This section of the web site will be devoted to Airfix Motor Racing - if anybody can help with this section through the loan of catalogues, pictures or any material from this range - I would be extremely grateful.
Known sets:

MR7 - Cooper and Lotus F1
MR10 - Contents unknown. Anybody help?
MR11 - Cooper and Ferrari F1
MR15 - Lotus and Porsche F1
MR125 - 2 mini-Cooper
MR185 - 2 saloon cars (Cortina and Viva)
MR205 - Monte Carlo Rally - 2 mini-Cooper cars (picture)
MR300 - Banked Track version

In addition to the slot-cars, Airfix also used it's standard 1/32 scale plastic kit range to offer Motorised Construction Kits. These were the following standard kits, with motor-packs:
E-Type Jaguar, Mini Minor, Sunbeam Rapier, Ford Zodiac, MG1100, Lotus Cortina, Vauxhall Viva. As "kits" these are scarce and hence valuable. As motorised sets, they are like gold dust!(see large picture at the end of this page)






It's made by Airfix - so you know it's good !

Left - An enthusiast's horde. Note spare car still in box, and original bottle of BP oil still present in the packaging. This is an early MR7 set with lots of extras.
Below - contemporary advertisement - the range changed name to MotorAce -
Changing Styles !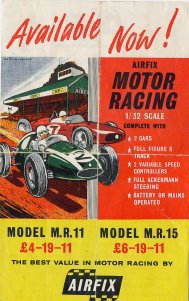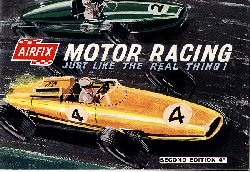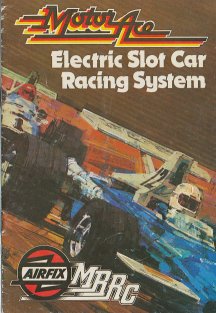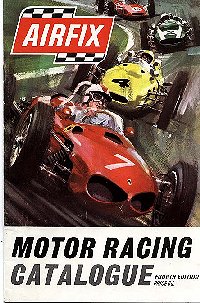 The following is a review taken from a hobby magazine of 1966 (magazine unknown): "Racing sets, cars and accessories produced by Airfix are manufactured to the popular 1/32 scale, and one of the main attractions of this firm's range is the excellent variety of reasonably priced static car kits which are comparatively easy to motorize. These are in great demand among members of the model car clubs and some highly competitive racing models have developed in consequence. A feature of the Airfix miniatures is the swinging front axle and Ackermann-type steering which can be purchased as a separate unit - a most useful component that is now used extensively by scratch builders.
Among the notably prototypes included in the Airfix range are the pre-war C-Type Auto Union and W125 Mercedes-Benz Grand Prix cars. Excellent replicas of the Vanwall and 250P Maserati, as well as several 1.5 litre F1 machines, plus an interesting selection of production saloon models are also available, thus catering for all tastes.
An exciting introduction this year is the Clubman range of models in kit form. These incorporate a new, powerful 3-pole motor which is particularly fast. All chromium parts in these kits are reproduced in chrome-plated nylon. First in the series is the F1 BRM, followed by a Ferrari and Aston Martin DB5.
Ideally suited for home use are the complete Airfix slot car racing sets which can always be extended by fitting extra track sections available separately. Other attractive accessories include Grandstands, Racing Pits, a Timekeeper's Hut and Press Box to add to the realism of a layout. Last, but not least, is the set of Spectators and Track Officials which provide a life-like aspect to any circuit.
A member of the Airfix Group of Companies is the well-known firm of Model Road Racing Cars Ltd, of Bournemouth. This, the longest established concern in the business, has catered for model car builders for many years and is one of the pioneers of commercial electric model car racing. They provide a wide range of parts for constructing 1/32 scale cars, including two of the most potent motors at present on the market. These are the well proven MRRC 3-pole and 6-pole Ball Race Motors. Both are used, together with a 5-pole unit, with great success by scratch builders in many parts of the world.
An excellent range of brass bevel gears, tyres, wheels, robust steering units and other useful components are also produced by this firm.
To MRRC ltd., goes the credit for introducing the first proprietary four-wheel-drive model; this, their Mercedes-Benz W154, fitted with the 6-pole Ball Race motor has proved extremely popular. The MRRC Mercedes is also fitted with the 3-pole unit - a version that has developed into a very successful contender in club events all over Britain. Further proof of the potential of the MRRC 3-pole motor is provided by the fact that the British National Championships were won in 1964 and 1965 by cars fitted with this unit.
The year 1966 has also seen the introduction of a MRRC four-wheel-drive Indi-Novi Ferguson, similar in layout to the Mercedes. A 3-pole version of this model has also been produced, and for the first time the firm is branching into the field of 1/24 scale with a powerful model of the renowned Maserati 250P Grand Prix 2.5 litre F1 car.
The new controller produced by MRRC Ltd. is another welcome addition to their range this year. It will take a load of up to 30 amps and is fused and wired for Dynamic Braking. Operated by thumb pressure on a plunger this "Hi-speed" controller is already proving its worth under gruelling tests in club events".
---
Airfix Motor Racing Picture gallery
with thanks to Nicholas Cotton for the Catalogue scans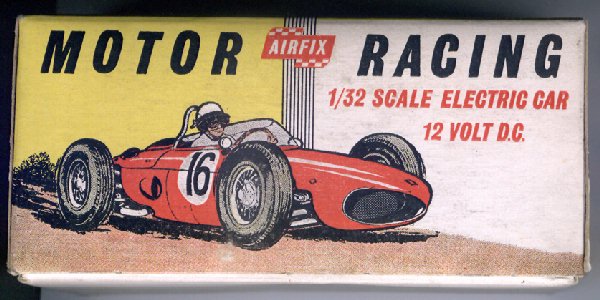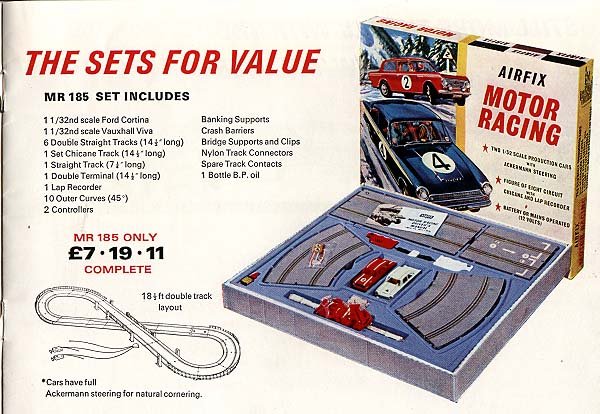 Airfix also produced "motorised" versions of their standard 1/32 car kits: