Airfix Railway Systems
This section aims to cover the Airfix electric train sets. This is not my specialist area and so I do not know a great deal about these ranges. Therefore the success of this part of the Airfix web site will depend on your help ! If you have any knowledge or material about the Palitoy Mainline range, The Airfix Railway System or Great Model Railways, please let me know ! The following is courtesy of material and information supplied by Steve Knight, Peter Baxter and Ramsay's British Model trains catalogue, 2nd Edition, 2000.
In addition, the following potted history was supplied by Phil Retter, to whom I am grateful:
"The Airfix range expanded pretty rapidly during its first few years and the second wave models (after the initial releases of the American loco, Prairie Tank engine and Brush diesel) were considered state-of the-art for the time. The Prairie Tank had been available for years as a kit but the ready to run model was completely new tooling. The second release models included the Royal Scot class, Castle class and 1400 class locos and matching coaches. They were a major advance over what market leader Hornby was producing at that time (late 70s) and really as far as serious modellers were concerned, Airfix main rival was the Palitoy range. The two ranges competed head to head, and both companies actually released Royal Scot locos simultaneously (they were different moulds). This sort of duplication must have contributed to lower sales. Palitoy also suffered with duplication with Italian maker Lima, when both companies released Warship class diesels within months of one another.
The Airfix range was partially combined with the Palitoy Mainline range after the takeover, with some Airfix models (N2 class tank engine) that had not made it into production with Airfix, being released under the Palitoy Mainline name.
Many moulds eventually went to Dapol who began to produce them alongside the former Airfix trackside kits.
The Mainline range was also disposed of later by Palitoy, and Dapol acquired moulds from this range too. A few ex-Mainline models were also made by a company called Replica Railways, and the rest were eventually acquired by Bachmann. Dapol also introduced some new models of their own including the 0-4-0 Pug loco, that had originally featured in the Kitmaster range (totally new tooling though). A couple of years ago Dapol sold their moulds to Hornby, who were still in the picture (are you keeping up!) and currently the Hornby range includes many ex-Airfix railway models including the original Prairie Tank engine, although a certain amount of retooling has taken place, I believe."
Excerpts from Ramsay's British Model Trains Catalogue, 2nd Edition:
In 1975, Airfix announced their intention of entering the electric train market, having recognised a need for ready-to-run models of a finer detail than were available at the time. Having little experience in model railway production, Airfix had to buy-in expertise from professional designers and overseas companies, including Bachmann - with whom they produced the Wild West Adventure set. This set was made up of existing Bachmann HO products, but the Dr.X set that followed used OO models specifically designed for the British market.
By the early 1970s Airfix were using Sandakan, a Hong Kong company, for the production of their models. The use of Far Eastern manufacture was extended in the late 1970s with the use of another Kong Kong company - Cheong Tak, who made the 4F, Royal Scot, Stanier, with others.
Communications problems with Kong Kong caused Airfix to re-think their strategy, resulting in the UK production of some wagon models. The success of these wagons eventually led to the phasing out of all overseas production.
This change in production happened in 1979 and, at the same time, the name of the product was changed to GMR (Great Model Railways). GMR manufacture was undertaken at Charlton in south east London.
Airfix/GMR exhibited for the last time at the 1981 Toy Fair, but as it retold elsewhere, they quickly went into liquidation. The Airfix model railways, with the rest of the company were acquired by its rivals - Palitoy - who owned the Mainline range.
After 1981, many models were made by Palitoy from Airfix moulds, combining the ranges together. Both Airfix and Palitoy tooling were later sold-off by Palitoy to Dapol in Wales. Around 1996 some of the Dapol and former Airfix tools were offered to Bachmann but were eventually sold to Hornby. Almost all of these are in back in production out of China, having first undergone improvements. So look carefully at that new Hornby - it might just be an original Airfix !!
The Airfix Railway System
Released in 1976 with these words from the very first catalogue : "In 1825, the great Railway Age began. Now in the hundred and fifty-first anniversary year, Airfix are proud to announce the introduction of the Airfix Railway System, specially developed to meet the needs of the true railway enthusiast".
151st anniversary? Big deal. Something suggests they were a year late, maybe?
Airfix themselves say that the track was manufactured by PECO in Austria, and as above - the first set (Wild West Adventure) was pure Bachmann.
The Airfix Railway System in 1976 consisted of:
British Rolling Stock in OO scale
American Rolling Stock in HO scale
click here for picture gallery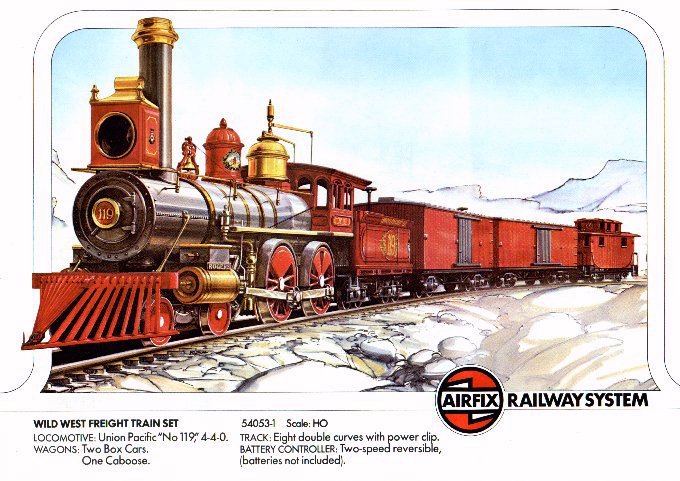 The locomotives from the original announcement of 1976 :
| | | |
| --- | --- | --- |
| 54171-8 | Union Pacific No119 4-4-0 | Pictured above as part of the Wild West Freight Train Set. |
| 54170-5 | Central Pacific 4-4-0 Jupiter | |
| 54100-6 | A1A-A1A Brush Type 2 Diesel Electric Class 31/4 | - |
| 54101-9 | A1A-A1A Brush Type 2 Diesel Electric Class 31/1 | - |
| 54151-4 | 6100 Class Type 2-6-2T Prairie Tank (BR) | - |
| 54150-1 | 6100 Class Type 2-6-2T Prairie Tank (GWR) | - |
Train Sets from the original announcement of 1976:
| | | |
| --- | --- | --- |
| 54052-8 | Dr. X Adventure Set (featured the Class 31/4 Diesel Electric locomotive). As you can see, the first Airfix Railway System trains sets were hardly aimed at the model railways adult enthusiast !! You may be interested to know that this 1st Edition Catalogue artwork was done by Ken Rush - the guy who did the Kitmaster box tops. | |
| 54051-5 | Wild West Adventure Set (featured the Jupiter locomotive). Another delightful set as can be seen from the picture | Click for picture |
| 54054-4 | Inter-City Set (featured the Class 31/4 Diesel Electric) | - |
| 54055-7 | BR Diesel Mixed Freight Set (Class 31/1 loco) | - |
| 54053-1 | Wild West Freight Train Set | Picture above |
Later years:
Whilst still named as the Airfix Railway System, the range changed during the late 1970s to be less "toy" and more "railway enthusiast". The American locos were deleted and the sets became themed towards the British railway system. For example, some sets:
54069-6 Paddington to Penzance 1934 set
54065-4 Euston to Liverpool 1956 set
54063-8 King's Cross to Newcastle 1957 set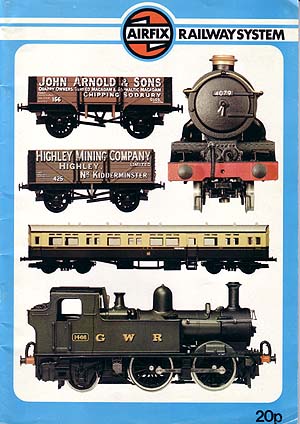 A Catalogue from the later years of the Airfix Railway System, 1979. The range now featured only British rolling stock and contained 12 locos, 20 coaches, 40 wagons and 8 sets. The Airfix Multiple Train Control (MTC) system was also featured.
Great Model Railways
At some point before 1980 Airfix renamed their railway range to GMR - Great Model Railways. The box style changed from light blue to the distinctive maroon packaging shown below. Airfix sent thousands of empty GMR boxes to their retailers and asked them to re-box their stock!
| | |
| --- | --- |
| | |
| The GMR Catalogue from 1980. | |
Airfix Model Trains Magazine
This magazine is believed to have begun in 1980. It was a general model train magazine, and following the traditions of its sister publication (the Airfix Magazine) featured articles and advertisements of competitive products. Picture below -