Roy Cross artwork
This section has been created to celebrate the artwork of Roy Cross, probably Airfix's most famous box-top illustrator.
Roy was born in Southwark, London in 1924, and started his artistic career during the second world war, working in an aircraft factory making technical illustrations for training manuals. After the war, Roy became a freelance commercial artist, and began working for Airfix in the early 1960s - his first illustration being the Dornier Do-217. As Roy worked for Airfix during the mid-60s to mid-70s, he is thus associated with Type 3 boxes and plastic bag header cards. His last commission for Airfix was the Prinz Eugen of 1974. Roy Cross continues to work as a marine artist, selling most of his work through a gallery in the Salem, Massachusetts. For more in-depth information on Roy Cross and his artwork, I recommend the Arthur Ward book - Celebration of Flight - The Aviation Art of Roy Cross", to be published in 2002. For more information on this book click here)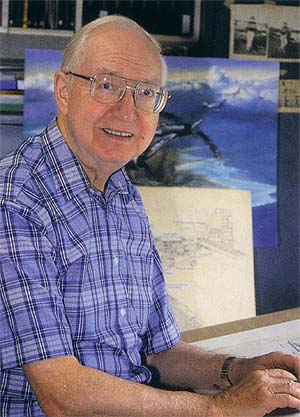 My thanks to Stephen Knight (aka Kitmaster bloke) for most these pictures. The following is a selection of some of the work of Roy Cross - the 747 is the watercolour rough for the Airfix oil painting. The Hunter, Scimitar were for Hawker Siddely ads and the rest covers for Flight or manufacturer's ads. The Harrow locomotive is a watercolour in the possession of Mr. Urquart, who was the Airfix packaging designer in the 1970s responsible for the Type 4 box styles. Larger versions of these pictures are available on my CD-ROM (click here for info).